LATEST NEWS IN POWER!
NEW MAILING ADDRESS
PO BOX 668, South Easton, MA 02375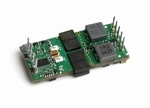 150 WATT QMM150 SERIES Dual Output Eighth-brick design DC-DC
Eighth-brick package
Qualification units are available.
"Preliminary"
The QMM 150 converter is a high density, dual phase (interleaved) constructed design. This product is a highly flexible/configured design, where as the Dual outputs are independently regulated and isolated, meaning they can be configured as an independent, dual positive, +/- dual or series "stacked". The single output simply configures the two like outputs for twice the output current of each channel. The QMM 150 has additional flexibility by utilizing our parelleling output modules that allow multiple outputs all running at the same frequency without the need for external complex circuitry.
Press Release


1.0WATT MBR01 SIP DC-DC CONVERTER
DC/DC converter up to 1W output power, 7 pin SIP package 3000Vdc Isolation, Unregulated Output types, 94V-0 package. Available stock, competitively priced.


1.0WATT MBR01 3KSIP DC-DC CONVERTER
UP to 1W Output power, 7 pin SMD package, 1000Vdc Isolation, Unregulated Output types, Input Voltage range +/-10%, 94V-0.


ICI4.0-1043 DC-DC CONVERTER
Wide input voltage range 8-18dc, 3.75 Watts, Pkg size 1.1 x .94 x 0.25 Efficiency to 80%, PI input filter.
Article relating to ICI4.0


10 WATT BRM10 SERIES DC-DC
The BRM10 Series, 10 Watt Wide Input Voltage Range DC-DC Converter provides up to 10 Watts of power in standard industry package size, 2 x 1 x 0.4", Wide Input Voltages, 9-18V, 18-36V and 36-72V, Efficiency to 80%, Isolation Voltage, 1500VDC. Available stock, Low Cost.


40WATT SFP40 SERIES DC-DC CONVERTER
The SFP40 series of DC-DC converters have been designed as an Industry Standard Pinout solution for a wide range of applications where light weight and ease of assembly are needed. Utilizing the latest thermal transfer techniques the SFP40 series packs up to 40 watts of power in 1.60" x 2.0" x 0..375" open frame construction and operating temperatures of -40c to + 105C. All models are designed to meet UL1950,CSA 950 and EN 60950.


7.5WATT OFS7.5 AC-DC SERIES POWER CONVERTERS
The OFS series of AC-DC power converters are designed for applications where small size is critical. This series provides a universal AC input, up to 7.5watts of output power & up to three outputs in a 2.0 x.75 package area of board space.


15WATT BRS15 SINGLE & DUAL AC-DC CONVERTERS
The BRS15 series provides up to 15Watts of AC-DC power, with Single and Dual Ouputs in an Open frame. This AC-DC converter provides high efficiency up to 82%. This series provides a universal AC input 90-264VAC, Short circuit protection and Internal Input filter.


100-130WATT ICI100/130 AC-DC SERIES
Open Frame AC-DC, 100W-130Watt, Single & Multiple Ouptuts, Greater than 80% efficiency, Convection Cooling, Small size 3.00" x 5.00" x 1.28"