12 WATT, ICI68D12 DC-DC 2:1 WIDE INPUT VOLTAGE RANGE SERIES

Model Number Selections
FEATURES
2:1 WIDE INPUT VOLTAGES 9-18V, 18-36V, 36-75V
12 Watt DIL Package
100% Burned In
High Efficiency
UL94V-0 Package Material
Custom solutions available
RoHS Compliant
3 Years warranty
Output Specifications
| | |
| --- | --- |
| Voltage Setpoint Accuracy, Single/Dual | +/-2% max |
| Temperature Coefficient | +/-0.05%/C |
| Ripple & Noise/20MHz BW (1) | 100mVp-p max |
| Line Regulation (2) | +/-0.5% max |
| Load Regulation (3) | +/-0.5% max |
| Minimum Load | 10% of Full Load |
| Short Circuit Protection | Continuous |
| Short Circuit Restart | Automatic |
| Over Load Protection | 150% Typ |
| Transient Response (4) | 350uS max |
Input Specifications
| | |
| --- | --- |
| Input Voltage Range | 2:1 Input Range |
| Input Filter | Pi Network |
| Protection | Fuse Recommended |
General Specifications
| | |
| --- | --- |
| Efficiency | 80% min |
| Isolation Voltage (1) | 1500Vdc |
| Isolation Resistance | 10/9n min |
| Switching Frequency | 400KHz Typ. |
| MTBF (2) | >900000 Hrs. |
| Weight | 17.5g Typ. |
| Case Material | Five-side shielded case. |
| Case size | 31.8mm 20.3mm 12.2mm |
| Potting Material | Epoxy UL94-V0 |
| Conducted Emissions | EN55022 Class A |
| Radiated Emissions | EN55022 Class A |
ENVIRONMENTAL
| | |
| --- | --- |
| Operating Temperature | -40C to +75C |
| Storage Temperature | -55C to +125C |
| Case Temperature | +95C max |
| Humidity | 95% max |
| Cooling | Free-air Convection |
EXTERNAL CAPACITANCE REQUIREMENTS
To meet the reflected ripple requirements of the converter, an input impedance of less than 0.5ohm from DC to 100KHz is required. External output capacitance is not required for operation, however it is recommended that 10uF tantalum and 0.1uF ceramic capacitance be selected for reduce system noise. Additional output capacitance may be added for increased filtering but should not exceed 1000uF.
All Specifications typical at Nominal line, Full load and 25C unless otherwise noted.
Measured with 1uF ceramic capacitor connect to the output pins.
High Line to Low Line.
Load Regulation is for output load current change from 25% to 100%.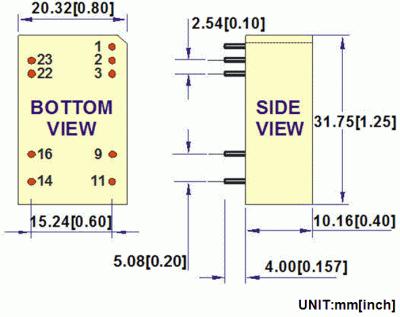 Unless otherwise specified, all tolerances are +/-0.25
Pinouts
| | | |
| --- | --- | --- |
| Pin | Single | Dual |
| 1 | Remote On/Off | Remote On/Off |
| 2, 3 | -Vin | -Vin |
| 9 | NC | Common |
| 11 | NC | -Vout |
| 14 | +Vout | +Vout |
| 16 | -Vout | Common |
| 22, 23 | +Vin | +Vin |
Note: Pin size is Tolerance 0.6@ +/-0.05mm