GWBC6A SERIES 6AMP NON-ISOLATED DC/DC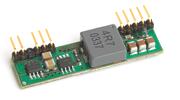 Low Profile, Open Frame Construction
Dip Package Size: .77" X 1.27" X 0.300"
Sip Package Size: .50" X 2.00" X 0.35"
The GWB6A series of DC-DC converters have been designed as a surface mount and thru-hole solution for a wide range of applications where low profile and ease of assembly are needed. The GWBC6A packs up to 6.0Amps of output current in a SIP or DIP open frame construction. The 4.75-28V dc input program selectable output Voltage of 0.9V to 6.0 Volts. Synchronous Rectified Converter at greater than 95.5% efficiency, make this product ideally suited for low voltage applications.
FEATURES
Surface Mount & Thru-hole types
Greater than 95.5% Efficiency
Remote On/Off 0.9V to 6.0V Outputs
Remote Sense Programmable Selectable Output–40C to +105C
Short circuit protection
Output Characteristics

Hold up time 20mS typ. at 115Vac
Short circuit/over-load protection
All Outputs (Auto Recovery)
Over Voltage Protection: 3.6-4.6V/5.7-6.7V ON V1 (3.3V/5V) 120 to 140% (V2) 12V/15V/24V
Operating temperature 0C to 50C
Storage temperature from –20C to –85C
Adjustment range +/– 10%
Typical at nominal input, rated load at 25degrees unless other specified.